Attendance - Every Day Counts!
Ofsted 2017 "Attendance is above the national average" – well done everyone!
Important Attendance Message September 2019
Every week we celebrate attendance in Monday's assembly. Each pupil who was in school every day the previous week is in a class draw, with the chance of winning a prize.
Outstanding Attendance is 100% - this is a fantastic achievement and these children receive a termly certificate and badge!
Excellent Attendance is 97%+ - another great achievement!
Good Attendance is 94%+
Below 93.9% is Attendance which Needs to Improve.
One of the most important things you can do for your child's future is to make sure they attend school, on time, every day!
Here are some of the 100% club celebrating their achievement.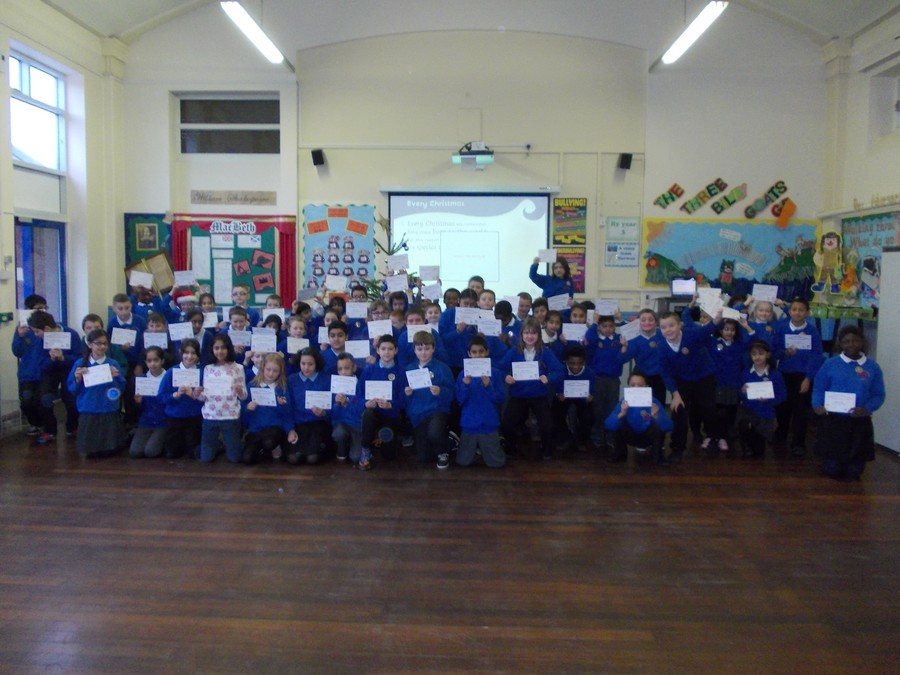 Absence Information
What Parents / Carers should do if your child is not going to attend school:
Telephone school on the first day of your child's absence to let us know why your child is not in school.

If your child has an appointment please show the appointment card to the office BEFORE the appointment. If possible appointments should be booked for after school or the school holidays.

If your child is going to be absent for more than one day please keep in contact with school, letting us know when you expect them to be well enough to return.

ALL absence must be recorded by school every day. They are recorded as:

Authorised Absence – where a satisfactory explanation for the pupil's absence has been given, for example
Illness

Medical Appointments (where the appointment card has been shown to school).

Exceptional circumstances, such as a family bereavement when permission has been given by the Headteacher

Unauthorised Absence – where no satisfactory explanation has been given for a child's absence, for example
A pupil's / family member's birthday

Shopping

Having a haircut

Staying off school when a sibling is ill.

"I slept in" or "I'm running late". Arriving at school after 9.30 am will be recorded as an unauthorised absence.

Where no reason is given.

Holidays taken in term time.

Fixed Penalty Notices – where a pupil records 5 sessions of unauthorised absence (2.5 days) then school will issue a Penalty Notice Advisory Letter to each parent / carer. If any further unauthorised absences are recorded then a request will be made to the Local Authority to issue a Fixed Penalty Notice Fine.

The Local Authority's fine for a Fixed Penalty Notice is £120 per parent, per child reducing to £60 if paid within 21 days.
IMPORTANT - NO HOLIDAYS MAY BE TAKEN IN TERM TIME.
Further information can be found in our Attendance Policy here. Click here for Guidance for Parents from Manchester City Council.